No Borders Advocates Newsletter
Issue #1 July 2013
Topics of this issue
---
Welcome readers!
Another newsletter has snuck up on us again and this week it's full of updates. We would also like to let you know about Seminars we hold at our Milton office after 5pm on Thursdays regarding both migration, and personal development. Check out our website and Facebook page for regular updates and feel free to come see us at Level 4, 20 Park Road.
This Sunday the 14th of July the Savoir Faire Eiffel Tower 'Switching on the Lights' event is happening right here at Park Road. It's going to be massive! There are loads of GREAT prizes, such as 2 tickets to Paris, and plenty of fun free activities for all ages. We're very excited to get involved with you all for these activities and again we always appreciate you taking the time to read the material we've prepared for you, and hope it helps you reach your aspirations.
---
Mitchell Ramstadius | July 2013
We have just welcomed a new senior Lawyer into our team George von Waidkuns-Velazquez! George will be an invaluable addition to the team with extensive knowledge and experience in all areas of workplace, employment and industrial relations.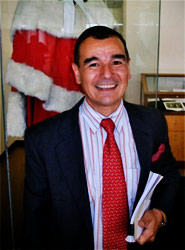 George completed his law degree at Belgrano University, Buenos Aires, Argentina, before completing the academic recognition of his law degree at Queensland University of Technology. George has a Post Graduate Diploma of Legal Practice from QUT and was admitted to The Supreme Court of Queensland and The High Court of Australia.
His recent work before starting here at No Borders Group has involved him working at the Fair Work Australia Tribunal, even appearing as a Counsel. George has vast experience in the framing of Enterprise Agreements and most relevant Employment Law matters.
He has established impressive technical skills throughout his career, in particular with regards to the BOOT Test (Better Off Overall Test) and its crucial implication in the approval of the Enterprise Agreements under the Fair Work Australia Act 2009 and its regulations.
We have high hopes for George and we don't expect his amazing list of achievements to stop expanding any time soon!
---
Mitchell Ramstadius | July 2013
No Borders is offering a July special to kick off the new financial year! With the recent price rise on 457 Visas, we would love to help bear some of the burden for you. For many of you who weren't aware, this increase may have come as a nasty surprise.
This is why No Borders is excited and proud to offer 10% OFF of our regular Visa prices for the month of July!
On top of this No Borders will also continue to charge NO additional fee for extra applicants on the same visa throughout July. This means you and your family can migrate to Australia for the same price as a lone individual!
This is a fantastic opportunity for you to migrate to Australia with greater ease, by letting us cover some of the financial cost for you.
---
Mitchell Ramstadius | July 2013
DIAC has announced that from 1 July 2013 the Fraud Public Interest Criterion (PIC) 4020 will be applied to all Family Stream visa applications. The reason for applying this Criterion is to deter fraudulent visa applications by providing a strong basis for action against attempts to submit false or misleading information as part of a visa application. Action can be taken regardless of whether the information was given by the applicant, a member of the applicant's family or a third party acting on the applicant's behalf.
The Fraud PIC 4020 allows a decision-maker to refuse the grant of a visa and impose a three year bar on the applicant possibly preventing them from being granted certain other visas. A refusal against the Fraud PIC 4020 results in ALL migrating family members included in the application getting refused. The DIAC does however give applicants who have provided information suspected to be fraudulent an opportunity to comment on the documents, and demonstrate compelling and/or compassionate reasons justifying why the visa should be granted.
The complexity of the information you will need to provide and the new scrutiny it will be under, is exactly why getting the help of a No Borders Migration Agent will often be the difference in whether or not your visa is approved.
---
Mitchell Ramstadius | July 2013
This program provides funding to help humanitarian entrants and migrants settle in Australia and have them participating as equitably as possible in Australian society after arrival. The SGP is targeted to deliver settlement services to humanitarian entrants, family migrants with low levels of English proficiency and dependants of skilled migrants in rural and regional areas with low English proficiency.
The SGP is a merit-based program with decisions to award grants being made at the discretion of the Minister for Multicultural Affairs. For the new financial year about $41 million has been made available under the SGP.
The grants program provides two general service types:
Casework which involves settlement related information and support services being provided to a candidate on an individual or family basis. These services can be requested by the candidate or be provided where appropriate based on staff assessment of issues arising from the candidate's settlement experience.
Coordination and delivery of services which could include the coordination or provision of group services, such as information sessions and participation in hobbyist and interest activity groups./li>
As a new arrival we understand you often need help to build social connections. Adapting to your new social environment can be intimidating and you may lack the confidence to seize opportunities for social engagement. Arrivals who can be particularly prone to becoming socially isolated are those with low levels of English language proficiency, people from small and emerging communities, the elderly, and those settling in rural areas.
The SGP helps new arrivals access people and organisations who can assist them in finding jobs, accommodation, health care and other relevant services. Its overall focus is on giving arrivals the independence they need to be happy and fulfilled residents here, and ease them into connecting with mainstream services.
---
Jensen Tan| July 2013
Economist forecasts in a survey by Bloomberg centered on only 11,000 jobs being created which was expected to leave the jobless rate steady at 5.6 per cent.
The Bureau of Statistics labour force survey estimates that 50,100 jobs were added in April, with 34,500 full-time positions and 15,600 part-time jobs created.
The fall in unemployment came despite an increase in the proportion of the population in work or looking for it, with the so-called participation rate rising from 65.2 to 65.3 per cent.
Looking at the unemployment rate over the various states:
NSW: Unemployment down from 5.5 to 5.3 per cent; participation up from 64.0 to 64.2 per cent.
Victoria: Unemployment up from 5.7 to 5.8 per cent; participation up from 64.8 to 65 per cent.
Queensland: Unemployment down from 5.9 to 5.6 per cent; participation down from 65.9 to 65.8 per cent.
SA: Unemployment down from 5.8 to 5.7 per cent; participation up from 63 to 63.3 per cent.
WA: : Unemployment up from 4.8 to 5.2 per cent; participation up from 68.6 to 68.9 per cent.
Tasmania: Unemployment up from 7.3 to 7.4 per cent; participation steady at 60 per cent.
NT: Unemployment up from 4.4 to 4.5 per cent; participation down from 73.2 to 73 per cent./li>
ACT: Unemployment steady at 4.6 per cent; participation steady at 72.4 per cent.
http://www.abc.net.au
---
Jensen Tan | July 2013
NETWORKING
(noun): "A supportive system of sharing information and services among individuals and groups having a common interest."

(verb): "To cultivate people who can be helpful to one professionally, especially in finding employment of moving to a higher position"
The definitions above should give you the full meaning and understanding of just what networking really means. Many professionals and successful people recommend networking, they say it is a great way to expand your knowledge, build working partnerships, promote your business, build clientele base, make new friends, and the list goes on!
One business definition of networking says it nicely, "networking is a life skill, which once developed, will reap beneficial opportunities through creating lasting impressions". Now let's look at a few benefits of networking:
Increased confidence
Practice makes perfect. As you regularly push yourself to talk to people, you are actually practicing your communication abilities, your knowledge, and your confidence!
Opportunities
Those who participate in networking have an agenda, whether it is a new business referral, seeking employment, or clinching a business deal. Out of every person you network with, there will be an outcome , either you get what you want or you don't! Logically speaking, the more networking you do, the higher chance for a positive outcome, right? Even if you didn't manage to get what you set out for, at least you have had that 10 minutes of practice, and it is going to help you with your next one!
Knowledge
A mutual exchange of ideas and information happens through communication with people of different backgrounds in a networking function. Through these mutual exchanges, sometimes a new inspiration or improvement to an idea in your head may just happen!
So when you are presented with an opportunity to attend any networking function, stop hesitating and start practicing! A great place to find meetings and gatherings of all kinds is Meetup.com
---
We hope that you have found the information in this issue of our newsletter to be enriching and useful. Stay tuned for our next publication and if you would like to talk to us directly, please do not hesitate to email jensent@noborders-group.com. In addition, if you would like your contact details updated or removed from this distribution list or you know someone who would like to be added, please email me on the same address.
"The only limits to being the person you truly want to be are your own self-limiting beliefs and thoughts. In every moment, you have the power to choose your life"
---
NO BORDERS Migration Advocates
Level 4, 20 Park Road
Milton 4064
Queensland
AUSTRALIA

Website : www.noborders-group.com
Subscription:


[SUBSCRIPTIONS]